When the Whole Earth Cat­a­log (WEC) was pub­lished in late 60s and ear­ly 70s, the idea was to cre­ate a fine­ly curat­ed list of every­thing "use­ful, rel­e­vant to inde­pen­dent edu­ca­tion, high qual­i­ty or low cost, not already com­mon knowl­edge, and eas­i­ly avail­able by mail."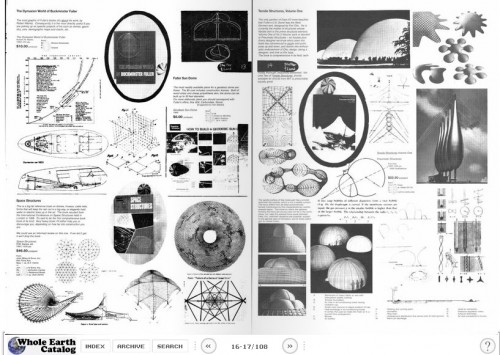 The Dymax­ion World of Buck­min­ster Fuller, Fall 1968. From
Arts & Ecol­o­gy
.
Steve Jobs once referred to the WEC as "the bible" of his gen­er­a­tion, and it's no won­der that he admired it: Each issue of the cat­a­log was sprawl­ing, ambi­tious, smart, lov­ing­ly craft­ed, and very much in keep­ing with the best of North­ern California's inno­v­a­tive spir­it — pro­gres­sive, irrev­er­ent, and (in its own way) ruthless.The title of this post refers to a (per­haps apoc­ryphal) account of the user expe­ri­ence con­sid­er­a­tions of the WEC. Report­ed­ly, the catalog's design edi­tor, J. Bald­win, said that the cat­a­log was an attempt to bring every­thing (of val­ue) in the world to with­in two1 phone calls for any read­er. Which was undoubt­ed­ly great at the time, but not quite good enough to escape the devel­op­ment of the one-call solu­tion — the dial-up modem. Doh! And the no-call solu­tion — broadband!And yet, when you com­pare the infi­nite vari­ety of the web to the refined encap­su­la­tion of the WEC, it's easy to see the val­ue of expert cura­tion. Doesn't it seem like the great oppor­tu­ni­ties for progress in web con­tent is to become more like the WEC — reli­able, read­able, smart? And even read­er-sup­port­ed? (After all, the WEC cost $5 in the 60s; $31.85 today. As one of the Whole Earth edi­tors wrote, peo­ple will pay for authen­tic­i­ty and find­abil­i­ty).1 For the record, I'm not exact­ly sure what the sig­nif­i­cance of "two" is, rather than "six" or "three." Would the first call would be the Whole Earth Cat­a­log, and the sec­ond would be to … the prod­uct cre­ator? Or the first would be to the prod­uct cre­ator, and the sec­ond would be to … some­one else?