I've love info­graph­ics, and I've gone on and on about col­lab­o­ra­tion and the Bea­t­les before, so when I heard that some­one had cre­at­ed an info­graph­ic dis­play­ing the degree to which Bea­t­les col­lab­o­rat­ed on songs — well, "inter­est­ed" would be huge­ly under­stat­ing my emo­tions at the time. (Thanks, Dan, for the tip).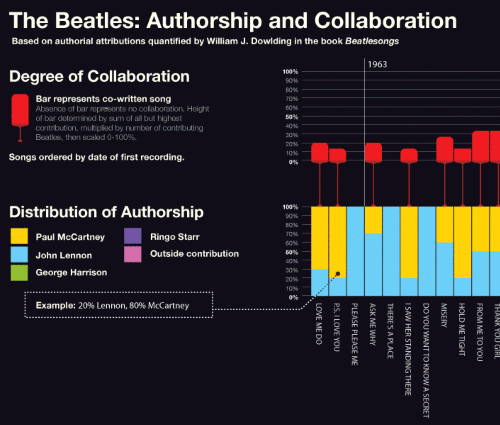 Author:
Michael Deal
.
Full image here
.
"The Bea­t­les: Author­ship & Col­lab­o­ra­tion" is a nice­ly com­posed graph­ic, clear­ly break­ing down the con­trib­u­tors to each song, Bea­t­le and non-Bea­t­le. The songs are laid out chrono­log­i­cal­ly, and the over­all effect clear­ly reveals that the Bea­t­les col­lab­o­rat­ed less as they pro­gressed in their careers. (If any­thing is true of the Bea­t­les, it's that they grew apart over time). The chart's data is drawn from Beat­lesongs, which quan­ti­fies the degree to which each Bea­t­le con­tributed to the writ­ing of a song, using a scale of 0–100%.
I can't quib­ble with the desire to under­stand and visu­al­ize the degree to which each Bea­t­le shaped each song, but I find the quan­tifi­ca­tion bit a lit­tle — well — false­ly pre­cise. It makes for a nice info­graph­ic, but a mere skim through The Offi­cial Abbey Road Stu­dio Ses­sion Notes, 1962–1970 makes it clear that there was quite a lot of col­lab­o­ra­tion among the four Bea­t­les — not to men­tion the var­i­ous "fifth Bea­t­les," the "Black Bea­t­le," and their pro­duc­er, George Mar­tin. Per­haps there's a dif­fer­ence between "col­lab­o­ra­tion" and "author­ship?" In the exam­ple to the right, "Octopus's Gar­den," is said to be 100% Ringo? Yes, Ringo does receive sole cred­it for "author­ship," but it is wide­ly known that George had a sig­nif­i­cant role in shap­ing it. In fact, George works out the song on a piano in the Let It Be movie. How to rep­re­sent this soft­er sort of col­lab­o­ra­tion? Good ques­tion. Shapes? Sizes? Col­ors? Dimen­sions? What­ev­er it is, it should fair­ly com­mu­ni­cate the organ­ic nature of cre­ative col­lab­o­ra­tion. And dis­pense with the too-neat round numbers.